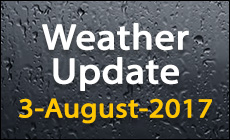 Today, Thursday, 3rd August, activity associated with the I.T.C.Z is expected to move northward, increasing instability.

Occasional cloudy skies with moderate to heavy scattered showers and isolated thunderstorms could continue until Friday 4th August, with a reduction in showers by Saturday, 5th August.


Moderate seas (1.2 - 1.8 m), on the west, could increase overnight, becoming moderate to rough seas (1.8 -2.5 m), across Saint Vincent and the Grenadines during the early morning. Seas are expected to retreat by this afternoon to 1.2 -1.8 m. By Friday 4th August, the west coasts can expect slight to moderate, 0.6 - 1.2 m, seas, as normal.

The next Tropical Wave is expected in our vicinity by late Saturday 5th, into Sunday, 6th August, however Sahara dust is also expected, which could hinder shower activity.


SOURCE: NEMO