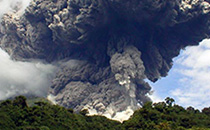 Senior teachers from primary and secondary schools within close proximity to the La Soufriere Volcano are currently participating in a workshop today, as part of NEMO's activities to commemorate the 37th anniversary of the eruption of the La Soufriere Volcano.
Click here for more information.
The Maritime Administration, in collaboration with the Ministry responsible for Labour will be convening a national maritime stakeholders seminar at the Methodist Church Hall, Kingstown, from 9:00 am on Tuesday 27th April 2010.