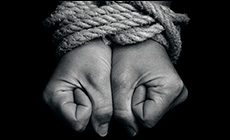 Several Government officials and private sector representatives are receiving greater insight into human trafficking in an effort to curb the problem, which is said to be affecting some Caribbean countries.

They are attending a two-day training workshop (16th and 17th May), on Human Trafficking under the theme "Identification, Assistance And Protection Of Victims".

The workshop is being spearheaded jointly by the Anti-Trafficking in Persons Unit and the Inter-Ministerial Working Group against Human Trafficking.

In his address at the opening ceremony Police Commissioner Reynold Hadaway,  said that every individual has a role to play to stamp out human trafficking in Saint Vincent and the Grenadines.


Delivering the Keynote Address, Ms. Cejilla McDowall, Crown Counsel in the Office of the Director of Public Prosecution, said that there needs to be more investment in the fight against human trafficking.

The workshop is taking place at the Foreign Affairs conference room.



SOURCE: NBC