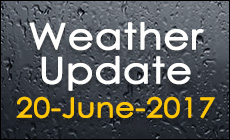 At 6:00 a.m. this morning, Tuesday, 20th June, the Saint Vincent and the Grenadines Meteorological Office issued the following special statement on Tropical Storm Bret.

At 5:00 a.m.,Tropical Storm Bret was centered  near latitude 10.6 North, longitude 62.9 West, 75 miles (120 km) East-South-East of Magarita.

The system is moving toward west-northwest near 21 mph (33 km/h). It is expected to continue on this general motion today. On this forecast tract, the center of the tropical storm will move into the extreme south-eastern Caribbean Sea later today.

Maximum sustained winds - near 40 mph (65 km/h) with higher gusts. Storm-force winds extend outward up to 125 miles (205 km), from the center. Estimated central pressure is 1008 mb (29.77 inches).

Little change in strength is forecasted for today, and a weakening trend is expected to begin later today when Bret is expected to become a tropical depression.

Overnight Saint Vincent and the Grenadines experienced squally conditions with periods of moderate to heavy showers and rain.  Conditions today:
Cloudy to overcast, with some pockets of light to moderate showers, periods of rain, gusty winds and isolated thunderstorms
Rainfall accumulation expected to decrease over time.
East to East-South-East winds expected, with seas conditions decreasing by afternoon.
Seas rough in open water.

A high surf advisory and small craft warning remains in effect. Residents, sea-bathers and motorists should take all necessary precautions.

So far the National Emergency Management Organisastion (NEMO) received reports of minimal damage to two house roofs. There were reports of power outages in the areas of Upper Murray's Village, Bequia, Dorsetshire Hill, Queens Drive, Prospect and Calderidge. There were also reports of gusty winds throughout Saint Vincent and Grenadines overnight.

The Saint Vincent Meteorological Services is monitoring the system and will provide updates as necessary.



SOURCE: NEMO